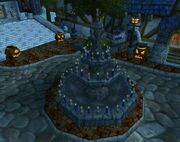 Hallow's End is a Halloween-style event that takes place at the mid-end of October.
When the decorations of Hallow's End light up Azeroth's cities, you know there's mischief afoot! Seek special vendors in Orgrimmar or Ironforge and get your hands on treats! Aid a sick orphan in a little trick-or-treating! Darkcaller Yanka, attending the Forsaken's Wickerman Festival, and Sergeant Hartman of Southshore are seeking your aid in keeping the enemy out of their holiday affairs - are you up to the challenge?
Lore
The day was once used for a festival near the end of harvest for humans of Lordaeron; the Forsaken later bastardized this practice, and now use the evening for their mysterious "Wickerman" rituals.[1] (APG 139)
Hallow's End marks the day the group of undead, who would later be known as the Forsaken, broke free of the Lich King's dominance and once again regained their free will. They celebrate this occasion by setting fire to a wickerman after a short speech from Sylvanas herself and smearing the ashes across their faces.
Why the Alliance or any other Horde race would celebrate Forsaken's version of the event is unclear. It seems some people will use any excuse to throw a party.
In the Warcraft book Arthas: Rise of the Lich King it its revealed that Hallow's End was celebrated by the Alliance before the Scourge even came to Lordaeron.
Fun Stuff
The Headless Horseman is terrorizing the villages of Azeroth!
See World Spawns for Village Event section for more details.

Each of the following towns is attacked by the Headless Horseman: Kharanos, Goldshire, Azure Watch, Razor Hill, Brill and Falconwing Square
The attack begins with the horseman settings fires onto buildings within the town. Players must put out the fires using buckets of water.
The horseman will come into the village and must be fought. He is level 11 and non-elite.
When defeated, a pumpkin is left on the ground which can be smashed for loot by every player.

Black Cats are around cities... be careful though, if you kill one, you will gain "Bad Luck" for two hours. During this time, you will sense your impending doom... Has no effect on your stats, lost after death.
Quests
Each of the 3 main quests will reward you with a number of [Hallow's End Pumpkin Treat]s and 250 reputation with your faction, either Alliance or Horde.
Neutral
Alliance
Horde
Note: Make sure you aren't in a raid for Wickerman trying to do any of these quests.
Be sure to visit the In-Game Events page of the Community section for screenshots!
Achievements
Title
Description
Reward
 [Trick or Treat!]
Receive a  [handful of treats] from one of the Candy Buckets located in an inn.
10
 [Out With It]
Eat so many tricky treats that you get an upset tummy.
10
 [Bring Me The Head of... Oh Wait]
Kill the Headless Horseman.
10
 [The Savior of Hallow's End]
Complete one of the quests to save a village from the Headless Horseman.

 [1-80 Daily] "Let the Fires Come!"
 [1-80 Daily] Stop the Fires!

 [1-80 Daily] "Let the Fires Come!"
 [1-80 Daily] Stop the Fires!

10
 [The Mask Task]
Not part of  Hallowed Be Thy Name
Obtain a Mask during Hallow's End.
10
 [A Mask for All Occasions]
Not part of  Hallowed Be Thy Name
Collect the 24 unique Masks listed below.
20
 [That Sparkling Smile]
Show off your sparkling smile by using a [tooth pick].
10
 [Rotten Hallow]
Ruin Hallow's End for the Horde and foil their attempts to wreck the Alliance celebration by completing the following quests.
10
 [Rotten Hallow]
Ruin Hallow's End for the Alliance and foil their attempts to wreck the Horde celebration by completing the following quests.
10
 [G.N.E.R.D. Rage]
Earn 10 honorable kills while under the influence of the G.N.E.R.D. buff. It's a slap in the face!
10
 [Check Your Head]
Use [Weighted Jack-o'-Lanterns] to put pumpkin heads on each of the races listed below:
10
 [The Masquerade]
Get Transformed by all of the Hallowed Wands.
10
 [Sinister Calling]
Obtain a [Sinister Squashling] pet and [Hallowed Helm].
10
 [Tricks and Treats of Kalimdor]
Visit the candy buckets in each of these Kalimdor inns.

Ashenvale, Astranaar
Bloodmyst Isle, Blood Watch
Darnassus, Craftsmen's Terrace
Dustwallow Marsh, Mudsprocket
Exodar, Seat of the Naaru
Northern Barrens, Ratchet
Stonetalon Mountains, Thal'darah Overlook
Teldrassil, Dolanaar

Azuremyst Isle, Azure Watch
Darkshore, Lor'danel
Desolace, Nijel's Point
Dustwallow Marsh, Theramore Isle
Feralas, Feathermoon Stronghold
Silithus, Cenarion Hold
Tanaris, Gadgetzan
Winterspring, Everlook

10
 [Tricks and Treats of Kalimdor]
Visit the candy buckets in each of these Kalimdor inns.

Ashenvale, Hellscream's Watch
Ashenvale, Splintertree Post
Azshara, Bilgewater Harbor
Desolace, Shadowprey Village
Dustwallow Marsh, Brackenwall Village
Felwood, Whisperwind Grove
Feralas, Camp Mojache
Mulgore, Bloodhoof Village
Northern Barrens, Grol'dom Farm
Northern Barrens, Ratchet
Silithus, Cenarion Hold
Southern Barrens, Hunter's Hill
Stonetalon Mountains, Sun Rock Retreat
Tanaris, Gadgetzan
Un'Goro Crater, Marshal's Stand

Ashenvale, Silverwind Refuge
Ashenvale, Zoram'gar Outpost
Desolace, Karnum's Glade
Durotar, Razor Hill
Dustwallow Marsh, Mudsprocket
Feralas, Camp Ataya
Feralas, Stonemaul Hold
Northern Barrens, The Crossroads
Northern Barrens, Nozzlepot's Outpost
Orgrimmar, Valley of Strength
Southern Barrens, Desolation Hold
Stonetalon Mountains, Krom'gar Fortress
Tanaris, Bootlegger Outpost
Thunder Bluff, Lower Rise
Winterspring, Everlook

10
 [Tricks and Treats of Eastern Kingdoms]
Visit the candy buckets in each of these Eastern Kingdoms inns.
10
 [Tricks and Treats of Eastern Kingdoms]
Visit the candy buckets in each of these Eastern Kingdoms inns.
10
 [Tricks and Treats of Outland]
Visit the candy buckets in each of these Outland inns.
10
 [Tricks and Treats of Outland]
Visit the candy buckets in each of these Outland inns.
10
 [Tricks and Treats of Northrend]
Not part of  Hallowed Be Thy Name
Visit the Candy Buckets in Northrend.

Borean Tundra, Bor'gorok Outpost
Borean Tundra, Taunka'le Village
Borean Tundra, Unu'pe
Borean Tundra, Warsong Hold
Dalaran, The Legerdemain Lounge
Dalaran, Sunreaver's Sanctuary
Dalaran, The Underbelly
Dragonblight, Agmar's Hammer
Dragonblight, Moa'ki Harbor
Dragonblight, Venomspite
Dragonblight, Wyrmrest Temple
Grizzly Hills, Camp Oneqwah

Grizzly Hills, Conquest Hold
Howling Fjord, Camp Winterhoof
Howling Fjord, Kamagua
Howling Fjord, New Agamand
Howling Fjord, Vengeance Landing
Sholazar Basin, Nesingwary Base Camp
Storm Peaks, Bouldercrag's Refuge
Storm Peaks, Camp Tunka'lo
Storm Peaks, Grom'arsh Crash Site
Storm Peaks, K3
Zul'Drak, The Argent Stand
Zul'Drak, Zim'Torga

10
 [Tricks and Treats of Northrend]
Not part of  Hallowed Be Thy Name
Visit the Candy Buckets in Northrend.

Borean Tundra, Fizzcrank Airstrip
Borean Tundra, Unu'pe
Borean Tundra, Valiance Keep
Dalaran, The Legerdemain Lounge
Dalaran, Silver Enclave
Dalaran, The Underbelly
Dragonblight, Moa'ki Harbor
Dragonblight, Stars' Rest
Dragonblight, Wintergarde Keep
Dragonblight, Wyrmrest Temple
Grizzly Hills, Amberpine Lodge

Grizzly Hills, Westfall Brigade
Howling Fjord, Fort Wildervar
Howling Fjord, Kamagua
Howling Fjord, Valgarde
Howling Fjord, Westguard Keep
Sholazar Basin, Nesingwary Base Camp
Storm Peaks, Bouldercrag's Refuge
Storm Peaks, Frosthold
Storm Peaks, K3
Zul'Drak, The Argent Stand
Zul'Drak, Zim'Torga

10
 [Tricks and Treats of the Cataclysm]
Not part of  Hallowed Be Thy Name
Visit the Candy Buckets in Cataclysm zones.

Deepholm, Temple of Earth
Mount Hyjal, Nordrassil
Twilight Highlands, Firebeard's Patrol
Twilight Highlands, Thundermar
Uldum, Oasis of Vir'sar
Vashj'ir, Darkbreak Cove
Vashj'ir, Silver Tide Hollow

Mount Hyjal, Grove of Aessina
Mount Hyjal, Shrine of Aviana
Twilight Highlands, Highbank
Twilight Highlands, Victor's Point
Uldum, Ramkahen
Vashj'ir, Deepmist Grotto
Vashj'ir, Tranquil Wash

10
 [Tricks and Treats of the Cataclysm]
Not part of  Hallowed Be Thy Name
Visit the Candy Buckets in Cataclysm zones.

Deepholm, Temple of Earth
Mount Hyjal, Nordrassil
Twilight Highlands, Bloodgulch
Twilight Highlands, Dragonmaw Port
Uldum, Oasis of Vir'sar
Vashj'ir, Deepmist Grotto
Vashj'ir, Silver Tide Hollow

Mount Hyjal, Grove of Aessina
Mount Hyjal, Shrine of Aviana
Twilight Highlands, Crushblow
Twilight Highlands, The Krazzworks
Uldum, Ramkahen
Vashj'ir, Legion's Rest
Vashj'ir, Tenebrous Cavern

10
 [Tricks and Treat of Pandaria]
Not part of  Hallowed Be Thy Name
Visit the Candy Buckets in Pandaria.

Dread Wastes, Klaxxi-vess
Dread Wastes, Soggy's Gamble
Jade Forest, Dawn's Blossom
Jade Forest, Greenstone Village
Jade Forest, Jade Temple Grounds
Jade Forest, Paw'don Village
Jade Forest, Pearlfin Village
Jade Forest, Sri-La Village
Jade Forest, Tian Monastery
Krasarang Wilds, Marista
Krasarang Wilds, Zhu's Watch

Kun-Lai Summit, Binan Village
Kun-Lai Summit, The Grummle Bazaar
Kun-Lai Summit, One Keg
Kun-Lai Summit, Westwind Rest
Kun-Lai Summit, Zouchin Village
The Veiled Stair, Tavern in the Mists
Townlong Steppes, Longying Outpost
Vale of Eternal Blossoms, Mistfall Village
Vale of Eternal Blossoms, Shrine of Seven Stars
Valley of the Four Winds, Pang's Stead
Valley of the Four Winds, Stoneplow

10
 [Tricks and Treat of Pandaria]
Not part of  Hallowed Be Thy Name
Visit the Candy Buckets in Pandaria.

Dread Wastes, Klaxxi-vess
Dread Wastes, Soggy's Gamble
Jade Forest, Dawn's Blossom
Jade Forest, Greenstone Village
Jade Forest, Grookin Hill
Jade Forest, Honeydew Village
Jade Forest, Jade Temple Grounds
Jade Forest, Sri-La Village
Jade Forest, Tian Monastery
Krasarang Wilds, Dawnchaser Retreat
Krasarang Wilds, Marista
Krasarang Wilds, Zhu's Watch
Kun-Lai Summit, Binan Village

Kun-Lai Summit, Eastwind Rest
Kun-Lai Summit, The Grummle Bazaar
Kun-Lai Summit, One Keg
Kun-Lai Summit, Zouchin Village
The Veiled Stair, Tavern in the Mists
Townlong Steppes, Longying Outpost
Vale of Eternal Blossoms, Mistfall Village
Vale of Eternal Blossoms, Shrine of Two Moons
Valley of the Four Winds, Pang's Stead
Valley of the Four Winds, Stoneplow
Valley of the Four Winds, Thunder Cleft

10
 A Frightening Friend
Not part of  Hallowed Be Thy Name
Find Pepe wearing his spooky scarecrow costume.
10
Meta achievement
Title
Description
Reward
 [Tricks and Treats of Azeroth]
Complete the following achievements:

Alliance:
 Tricks and Treats of Eastern Kingdoms
 Tricks and Treats of Kalimdor
 Tricks and Treats of Outland

Horde:
 Tricks and Treats of Eastern Kingdoms
 Tricks and Treats of Kalimdor
 Tricks and Treats of Outland

20
 [Hallowed Be Thy Name]
Complete the Hallow's End achievements listed below.
20
Title <The Hallowed>