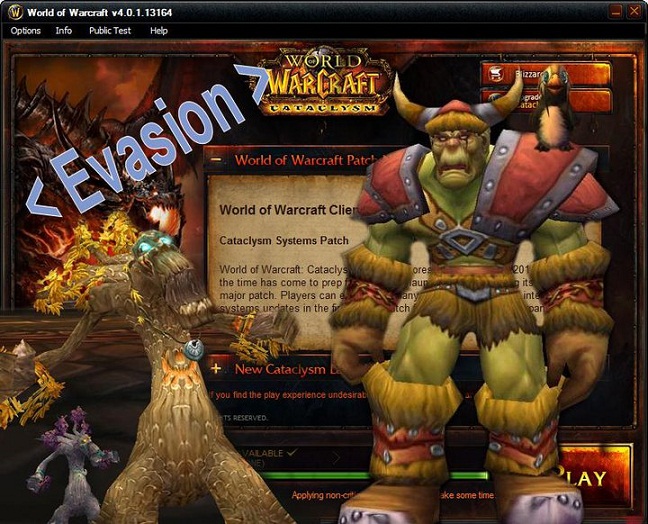 Last Updated
Edit
This site was last update on Jan 18th, 2011 the items changed are as follows.
Guild ranks
Rules
Added New tab - Guild leader/Council Men
The Guild <Evasion> was created on June 10th 2010 on the Blackrock U.S sever by a Rogue Name Nukis. The Rogue (At the time Being the Players Main) transferred to Blackrock on June 10th 2010 with the hopes of creating a Social Raiding and Pvp Guild for Cataclysm. The Guilds "Guild Master position" would later be transferred to the players original main, a Paladin name Capallie one month later after a second charter transfer to Blackrock, then it would be handed over to the players Newest Main a lvl 85 hunter named Catanew.
The Guilds Mission
Edit
The Guild's Missions is to bring forth a atmosphere where people can once again enjoy playing the game while in a guild. The Guild is considered to be a Social Leveling, Raiding and Pvp Guild. Essentially having an area for every kind of player.
Guild Stats
Edit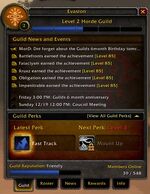 At the moment our Guild is Hitting the max amount of Guild experience possible to be earned everyday.
-Guild Level
-Rough Member count
-Achievement Points
<Evasion> tries to be as laid back and fair with all its rules that it implements, but at the same time keeping a strong fist towards trouble makers and players who would give the Guild a bad name.
Rules that every Guild Member should know and Follow
Read all Guild info
No profanity, Meters, fighting or disrespectful talk in Guild Chat. You have to remember we are a social guild and want to keep a friendly Guild chat atmosphere (Vent is an area for more open and adult language as a FYI)
Do not give out Vent info to none guild members without permission from a social council member first
If you have an alt in the Guild you must place the name of your Main in its guild note and make sure it is placed in the Alts rank
respect others and other Guilds, you have to Remember you're always representing the guild
If you use the Guild Bank make sure you give back something of equal value to the Bank
No Toon below Lvl 20, even if it is an Alt is aloud to enter the Guild.
Recruitment
Edit
<Evasion> is now Recruiting the following.
Raid Leaders
Pvp Leaders
Raiders and Pvpers above iLvl 345
How do I join the guild? Edit
Joining the Guild is quite Easy. All <Evasion> Members can invite to the Guild so finding someone to actually invite you is very easy. Just make sure you know all the Guild Rules so that you wont make any mistakes upon entering the Guild, Remember first impressions count.
Guild Raiding
Edit
<Evasion> focuses on mainly 10 man raiding content. The Raid Leaders set up the raids, distributes loot, and explains raid content. Each of the raid leaders plan and lead their own raid each week. This makes raid times very flexible and it is very likely that you will be able to find a raid that fits your schedule. Each and every official guild raid will be posted in the calendar. Raid leaders are the only people who can do this, so you won't be mixed up between official guild raids and unofficial ones. In WotLK, there were 3 specific raid teams that went at different times of the week, and in Cataclysm, as more mature raid leaders are found, more groups will start to form. As posted earlier, this is a social raiding guild, so attendance is not mandatory, but if you sign up, it would be nice if you show up.
Guild Pre-Made Pvp Bg's
Edit
<Evasion> is doing pre-made ranked Bg's 4 days out of the week in the 10v10 bracket. The Pvp Leaders are responsible for planning, and leading pre-made ranked Bg sessions. Much like the raid leaders, each Pvp leader will have his or her own battle ground group that does pre-made ranked Bg's each week. These Bg's will most likely be posted on the calendar, and calendar rights will only be given to the Pvp leaders. Once again, this guild is a social raiding/Pvp guild, so attendance is not mandatory, but it would be ideal if you show up when you sign up.
How to Get Promoted
Edit
Upon entering the Guild your given the Rank of Trial or as its been remade " C Guild Info" to get promoted out of this Rank each person Must Read and follow the Guilds information along with understanding all Guild Rules as-well as asking someone of Rank Guild Patron or Higher to place your " Spec - Wither or not there a Raider or Pvper and Gear iLvl in your Guild Note, and deposit no less then 100g into he guild bank. From here they will be promoted to Member.
As an example of what you need to place in your Guild note to be promoted to member is as follows. " Holy- Pvp -iLvl 300 " as you see this is a very simple request and can be essay followed.
For someone to be promoted higher to Guild Patron they must make themselves known within the Guild, they should be active, helpful, creative, active in vent and respect the Guild and its members.
For someone who wants to be promoted to Guild Warrior, they must do the requirements of Guild Patron and also be a fully dedicated Raider or Pvper
IF your interested in a Leadership position, you should contact the Guild Master and let him now your interested in taking on a higher roll in the Guild, you should now the rank and the responsibility's of said rank you want to apply for and be willing to full fill the requirements fully.
Guild Ranks
Edit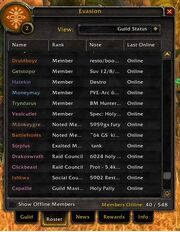 Through much trail and error, <Evasion> has come up with a very unique Guild Rank System. We call it the "Council System," how it works is, rather then have officers, we divided the main jobs of a officer up into 3 categories, Social Council, Raid Leader and Pvp Leader. Each rank has been given a specif job so that the stress level of being a high ranked member is less and in turn the person can enjoy playing the game more. Below the council ranks we have Guild Warrior, Guild Patron, Member, Time out Room, Alt and Trial or " C Guild Info " rank.
---
Below are the Ranks in order, along with a description of each ranks responsibility's
---
Guild Leader -Leader of the Guild and in charge of Guild Related issues at the highest order
Social Council -2nd in command in the absence of the guild leader, Social council is to keep the peace within the guild in clouding but not limited to Guild Chat, Guild Relations, Recruiting, Guild bank, member confrontations and promoting / demoting
Raid Leader -The Job of Raid Leader is to set up Raids mange loot and recruit Raiders for there Ten man Raid they are also respectable for poromting dedicated raiders to the raider / Pvper ran.
Pvp Leader ( This Rank has now been merged with the Raid Leader Rank )-The job of Pvp Leader is to set up Ranked Bg teams and premades battalte grounds, along with recruiting pvpers and printing dedicated Pvpers to the Raider / Pvper rank.
Guild Warrior -A highly noted and dedicated member to <Evasion> who is a noted Raider or Pvper in the Guild.
Guild Patron -A highly deadicated Member of noted statue in the Guild who is more of a Social player then a Raide or Pvper.
Noted Member - This Rank is the mid way point for becoming ether a Guild Patron or Guild Warrior.
Member -the average rank given to Guildmates who follow the Guilds rules and request.
Time out Room -The Guild Leader has reserved the right to be the only person to whom can kick anyone out of guild, so in turn we created the "Time out Room" as a place for Guildmates to be demoted to when a confrontation arises by ether the Guild Leader or Social Council Member only.
Alt -Each Member in the Guild can only have one main toon that can progress up the ranks of <Evasion> so in turn we created the Alt rank, all Alts should have the name of their main in their guild note at all times or else the Guild reserves the right to remove said Alt with out question
Trial AKA"C Guild Info Rank" -The entry rank for all new recruits, to be promoted out of this rank they must first read all guild info and then place their spec Gear iLvl and raider or Pvper into there Guild Note aswell as Deposit upto 100g into the guild bank, this shows us that you understand the guild and wish to become a full member.
Community content is available under
CC-BY-SA
unless otherwise noted.