This article is a guild information page for Epsilon of Nordrassil Europe.

The contents herein are entirely player made and in no way represent official World of Warcraft history or occurrences which are accurate for all realms. The characters and events listed are of an independent nature and applied for roleplaying, fictional, speculative, or opinions from a limited playerbase only. Guild pages must comply with the guild page policy.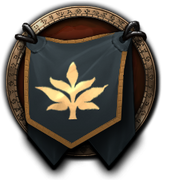 As a Guild we have a friendly non Hardcore enviroment, ppl like to help eachother without that meaning they do the whole job for you. So if you think you can fit with us, if that you looking for is a nice guild with a lot of fun and mature ppl who dont affraid to try hard.. We will be happy to welcome you to our community and be part of our friendly team. To apply, please use the 'application' link on our website.
Guild progress
Edit
Mist of Pandaria Raids
Cataclysm Raids

WotLK Raids

TBC Raids
Epsilon is a raiding guild on the Nordrassil (EU) PvE server which was created on the 1st of September 2007 by a group of friends.
Now our goal is to grow this guild to be able to do some serious raids with people who share the same goals as us... Discover and conquer all current instances and bosses, and keep the fun of playing.
As a guild, we have a friendly non hardcore enviroment, and people who like to help eachother.
We ask for a mature attitude, patience, persistence (wipes do happen and we learn from them), team spirit and the will to give first and take after. We play a multiplayer game and we want to play it right. To join our raids your gear level can be an issue but can be a minor one, provided that we can see that you do something more than just wear it. Gems, enchants and a plan to improve your gear is more important than just your item level. Once membership is achieved, you might have a small idea of what life in Epsilon will be… Fun, teamwork and progress, in exactly that order!
So if you think you can fit in with us, if that what you are looking for, is a nice guild with alot of fun and with mature people who aren't affraid to try hard.... We will be happy to welcome you to our guild and be part of our friendly team.
Thank you for your time and we hope to see you soon under Epsilon tag.
Weekly raid schedule
Edit
Guild rules
Edit
Both guild and raid rules are available on the forums on our website.
Officers
Edit
Uroukhigh, "Guild Master"

Divinora, "Co-Guild Master/Raid Leader"

Alreadydead, "Officer"
Community content is available under
CC-BY-SA
unless otherwise noted.