This article is a guild information page for Dragon Bait of Ghostlands Europe.

The contents herein are entirely player made and in no way represent official World of Warcraft history or occurrences which are accurate for all realms. The characters and events listed are of an independent nature and applied for roleplaying, fictional, speculative, or opinions from a limited playerbase only. Guild pages must comply with the guild page policy.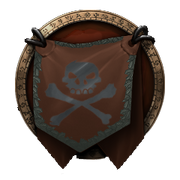 Dragon Bait was formed on 31/7/2010 by Potts. We are a social guild with casual raiding on the side. We do have plans to make a rated battle ground team in the future.
You should expect a pleasant, enjoyable, social atmosphere that everyone can be a part of. We are a social raiding guild who welcomes all levels and abilities of player. This may seem a bit odd at first but we like people who are friendly and sociable players, regardless of the level. We judge people on their personality not I level! We have a fantastic team of friendly officers willing to help, all you need to do is ask (beg). We can help you with everything you need, our guild chat is usually booming with activity. I hope we can see you getting stuck in with the jokes, discussions, debates and advice! I look forward to seeing you there! If you are looking for a relaxed, friendly, helpful guild you just found it .
Ranks of Dragon Bait
Edit
Guild Master - This should be obvious..
General - Generals have a lot of power in the guild, they are my second in command.
Death Guard - 
Much like officer but with more guild bank access.
Officer - Watches over the guild helping and inviting new members while always on the lookout of anyone deserving of a promotion.
Raider - 
A raider with the guild has guild repairs, access to flasks, gems and enchants from the guild bank and has priority for raids.
Veteran - A trusted member of the guild with more guild bank access than members.
Member - 
A member of Dragon Bait, yes really.
Recruit - If you are a recruit you will be promoted to member if you have a strong application or when you have shown us you are a friendly, trustworthy person.
| | |
| --- | --- |
| Name | Rank |
| Potts | Guild Master |
| Hillbilly | Deathguard |
| Shabof | Officer |
| Lustra | Officer |
| Porkiepig | Officer |
We raid casually and try to run two 10 man teams. Please see the guild website for the latest recruitment information and progression updates.
Recruitment
Edit
Dragon Bait is always looking for new members, if you want to raid with us please check we will have room for you on a team. Stand ins are always welcome. We have no level, gear, skill or iLevel requirements but we do have personality requirements, you gotta be friendly! Recruitment Form
Community content is available under
CC-BY-SA
unless otherwise noted.