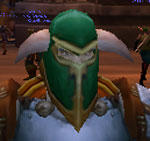 The Green Iron Helm is a Blacksmith-made mail helm.
Green Iron Helm can be created by a blacksmith with a skill level of 170.
The recipe is available from the expert blacksmith trainer.
The helm is an objective of the Horde blacksmithing quest Trampled Under Foot available from Orokk Omosh in Orgrimmar.
External linksEdit