Were you looking for the dwarf version named  

Greatfather Winter

?
| | |
| --- | --- |
| | The subject of this article or section is part of Feast of Winter Veil, a seasonal event that lasts several weeks. Once the event has run its course, this will no longer be available until next year, but there are no guarantees. |
"Mmmm . . . Gingerbread cookies and milk!" [1] (

TCGFWV 4

)
Great-father Winter is a level 30 quest giver located in the Valley of Strength in the orcish capital city of Orgrimmar. He is only available during the Feast of Winter Veil event. He is the Horde version of

 Greatfather Winter.
He starts and ends the quest:
He ends the following quests:
See Orgrimmar NPCs.
Background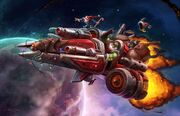 The term "Winter Veil" is said to stem from a supernatural being referred in many cultures to as Greatfather Winter. As he would walk the land late in the seasons, winter itself would be his billowing cloak. In his wake was the blanketing of the land in snow, and thus it is said that Greatfather Winter would cast his wintry veil over the land. Though parts of Azeroth may lie in snow, it gives the land time for rebirth and renewal.
Greatfather Winter is now seen as a kind old orc, or dwarf, who brings presents to everyone. Although many people, such as lorekeepers, have their thoughts about this commercializing of the old god by the Copperpinch and Jinglepocket families (members of the Smokywood Pastures arm of the Steamwheedle Cartel goblin faction), it is a nice idea nonetheless.
2017 poem
From "Dear Greatfather Winter:"[2]
Winter Veil is Here
Time for Joy and Cheer
Fun for all the gnomes recall
Their favorite time of year

Snowglobes in the square
Bring out your festive wear
/Dancing by the fireside
And the Greench is in his Lair
Sayings
When you talk to Great-father Winter, he will respond in one of the following ways:
No... you can't sit on my lap.
A wonderous Winter's Veil to you... uh... little <boy/girl>. Good children get special, um, discounts at any local Smokywood Pastures vendor. Yum.
I have a pretty good idea what ol' Greatfather Winter's gonna be doing when this shift is over. I got a bottle of Winter Veil cheer right here in my bag, and I intend to get to the bottom of it.
Yeah, sure, go ahead and tell ol' Greatfather Winter what you'd like for this Winter's Veil.
Ho ho hurry up.
Patch changes
References
See also
External links
News

Official WoW Site (US)
Dear Greatfather Winter:
Community content is available under
CC-BY-SA
unless otherwise noted.