This article concerns content exclusive to Warlords of Draenor.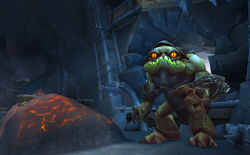 While the gronn and magnaron shape the world through their brute individual strength, the goren are scavenging opportunists who dart unseen between the lumbering feet of their larger cousins. Roughly the size of an Azerothian trogg, goren live in massive colonies that burrow through the earth, gobbling up minerals and leaving twisting caves in their wake. They enjoy devouring crystalline minerals, which are digested and extruded through their skin, giving some goren the benefit of an armored crystalline shell. The bane of both orc and draenei miners, goren sniff out and infest mineral-rich burrows. Adventurers should be wary of the gorens' ability to shoot crystalline projectiles and swarm around unprepared explorers in rolling packs, as well as their impossibly sharp teeth and acidic spit.
Community content is available under
CC-BY-SA
unless otherwise noted.