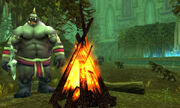 The Gordoks are a powerful tribe[citation needed] of ogres that took over the north side of the ruins of Eldre'Thalas, now know as Dire Maul. They are named from their leader King Gordok. They respect strength first and all, and it is said that anyone who can best the King in battle can lead the tribe. Before even seeing the King, you will have to pass his elite guards: Fengus, Mol'dar, Slip'kik, and the fearsome Captain Kromcrush.
Known members:
List of Gordok mobs
Brewfest
In the recent Brewfest festivities, even a few Gordok have forgotten their initial hostilities and brought something from their tribe to share with all: the powerful but delicious Gordok Grog! The Gordoks have now established a presence in both Alliance and Horde territories selling their trademark alcohol to everyone!
Community content is available under
CC-BY-SA
unless otherwise noted.