Glyph of Stars

Item Level

25

Minor Glyph
Classes: Druid (Balance)
Requires level 25
Use: Permanently teaches you this glyph.
Your Moonkin Form now appears as Astral Form, conferring all the same benefits, but appearing as an astrally enhanced version of your normal humanoid form.
Sell Price: 1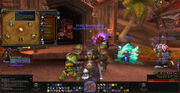 This item is created with Inscription (75).
Patch changes
Edit
External links
Edit