Glubtok the Foreman is the first boss of Deadmines.
Heroic: He clears threat whenever he blinks after either Fists buff wears off, so tank needs to grab him back immediately. Once the wall of fire appears, move clockwise around him to avoid getting hit. Avoid fire/ice ground target areas. AE adds or get them to the middle so the tank can hold onto them.
Abilities
Edit
Phase 1
[Fists of Flame]

—Glubtok sets his fists afire, causing melee strikes to deal additional Fire damage and sometimes knock back nearby enemies. 2 sec cast. 10 sec duration

[Fists of Frost]

—Globtok coats his fists with Frost, causing melee strikes to deal additional Frost damage and sometimes slow nearby enemies. 2 sec cast. 10 sec duration
Phase 2
Objective of
Edit
Glubtok will alternate Fists of Frost and Fists of Fire. Fists of frost will slow the movement and attack speed of the tank (and nearby players?) and Fists of Fire will cause his melee attacks to deal AoE fire damage and have a small knockback. Glubtok will blink between fist cycles.
Tank him where he stands with his back to the team. Try to interrupt his fist spells, although I am uncertain if this really works. Spread out to avoid splash damage.
Once Glubtok reaches half health, he will deep freeze the entire party and run to the center. He will then gain Arcane Power, causing him to float above the ground (still attackable by melee) and channel a spell causing him to shoot fire and frost at random locations, visibly marked. In this phase, the party needs to DPS him down while avoiding his attacks. He no longer melees and only uses the fire and frost abilities.
It is advisable to mark the healer and all move to his location when the phase starts to ensure no-one is trapped on the wrong side of the wall of fire.
You will need to keep the adds under control using AOE abilities, instant casts being preferred as they allow you to remain mobile. Try to overlap you AOE onto the boss, and keep as much pressure and DPS on him as you can or you will be overwhelmed. Consider having your priest holy nova.
Normal


Item Level

20

32 Armor
+4 Strength
Requires level 15
Equip: Increases your critical strike rating by 4.
Related achievements
Edit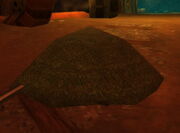 Aggro
Glubtok show you da power of de arcane!
Fists of Flame
Fists of Frost
Entering Phase 2
Glubtok ready?

Let's do it!

ARCANE POWER!!!
Defeated
TOO...MUCH...POWER!!!

Glubtok is obliterated by the arcane energies into a pile of ash.
Patch changes
Edit
External links
Edit


Archive.org
Glubtok


Archive.org
Glubtok
Community content is available under
CC-BY-SA
unless otherwise noted.