It is requested that a screenshot or screenshots be included in this article to improve its quality.

Location: Lost City of the Tol'vir
General Husam will be a boss of the Lost City of the Tol'vir in World of Warcraft: Cataclysm.
Normal: Stay out of Shockwave lines. Healer needs to keep an eye on Bad Intentions victims. Move off of Mystic Traps and stay away from them until they detonate. Depending on where and how many Mystic Traps there are, tank may want to drag Husam to a clearer area.
Heroic: Clear both adjacent trash packs before engaging. Husam may pre-detonate all traps (and there are more traps), so it is more important to drag him to clearer areas.
Abilities
In Progress

[Bad Intentions]

—Charges an enemy player with very Bad Intentions in mind Tooltip/name is likely a stub.

[Hammer Fist]

—Inflicts an attack that 50% Weapon damage instantly

[Shockwave]

—General Husam cracks the ground beneath him, causes a Shockwave that inflicts 25000 Physical damage to enemies within 4 yards of the Shockwave 5 Sec cast
Strategy
Be sure to kill the trash on both sides of Husam before, as you might need all of that room available.
Normal mode:
Husam needs to be tanked and kited around, but be careful when going behind the pillars as they can cause a line-of-sight issue. The traps that drop have a small radius of effect, but are painful. Be especially careful when they light up and even more careful when the ground effect around them shows up - they will explode soon.
These yellow traps are thrown all over the place.
Every 20 seconds, Husam casts bad intentions, grabs someone, impales them for about 30k damage, then throws them away. Be sure to have at least that much health on everyone or the person impaled will die.
Avoid being hit by shockwave.
Heroic mode:
Bad intentions is closer to 45k damage, and can go on any non-tank. The traps are cast on each player and come more often, and last longer. Be ready to move quite a bit.
Shockwave creates two lines going in different directions
Quotes
Aggro
Invaders! You shall go no further!
Shockwave
Death
Siamat must not be freed! Turn back before it is too late!
Loot
Videos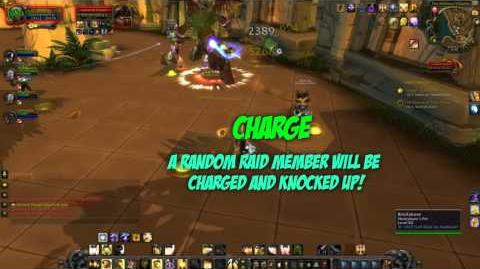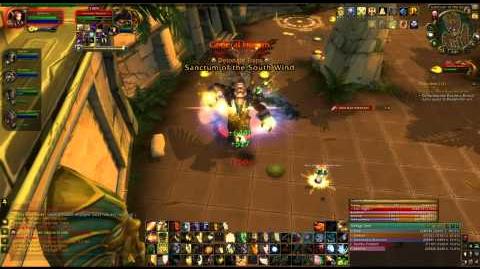 External links
Community content is available under
CC-BY-SA
unless otherwise noted.