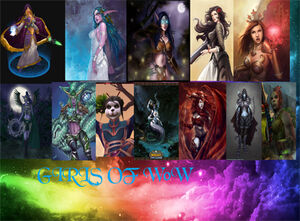 In World of Warcraft

This section concerns content exclusive to World of Warcraft.
Genders are either female or male, although some creatures may be "genderless". Playable races come in either gender in World of Warcraft.
In the RPG

This section concerns content exclusive to the Warcraft RPG, and thus unlikely to be canon.
Some races previously discriminated against one gender or the other (for example, many years ago the orcs did not allow females to fight, and the night elves did not allow male mounted warriors), but war changes everything, including gender beliefs. Nowadays, both genders are accepted in all classes.[1]
References
See also
External links
Lore

WoW Insider
Know Your Lore: What exactly is up with women in Warcraft lore?
by Anne Stickney Jun 24th 2012 at 4:00PM
News

International Business Times
Female WoW Players Tell All: What Is World Of Warcraft Really Like For Them?
By Saira Mueller @SairaMueller On 07/08/15 AT 2:32 PM

Slate.com
The Surprisingly Unsurprising Reason Why Men Choose Female Avatars in World of Warcraft
By Nick Yee May 13 2014 12:45 PM

WoW Insider
Drama Mamas: The consequences of lying about your gender
by Robin Torres May 7th 2012 at 2:00PM

WoW Insider
Why is Blizzard still OK with gender inequality in World of Warcraft?
by Josh Myers Apr 3rd 2012 at 4:00PM

MMO-Champion
Character Gender Ratios, Blue Posts, Fan Wallpaper, TCG Artworks
by chaud 2011-08-10 04:27 AM
Community content is available under
CC-BY-SA
unless otherwise noted.