Frost Lotus is a herb that can be gathered by herbalists.
Source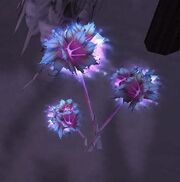 Frost Lotus is typically gathered, in addition to other herbs, from herb nodes in Northrend such as Icethorn or Lichbloom although all herbs of Northrend have an equal 7.5% drop rate.
Wintergrasp and The Conservatory of Life are the only places where players can find Frost Lotus nodes, which require 450 Herbalism to gather, and also have a 7.5% chance to drop an additional lotus.
Players should note that Frozen Herbs will not yield a Frost Lotus.
Frost Lotus as an Ingredient
Frost Lotus is used as an ingredient for:
Alchemy
Tailoring
Patches and hotfixes
Patch 3.3.3

(2010-03-23): Can now be bought with Frozen Orbs from Frozo the Renowned in Dalaran.

 Hotfix (2010-02-18): The drop rate of Frost Lotus, from herbs in Northrend, has been increased by 50%. From 5% to 7.5%

/

Patch 3.0.2

(14-Oct-2008): Added

External links
Community content is available under
CC-BY-SA
unless otherwise noted.