Forums:
Index
⇒
WoWWiki general
→
WoWWiki and Xfire in-game browsing!
(
This is a dead topic, Please do not edit this page!
)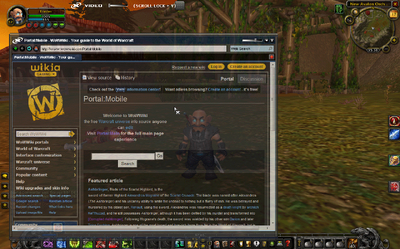 Take WoWWiki wiki in-game!
Fresh from a partnership with Xfire, we are proud to announce that WoWWiki will serve as the default homepage on the in-game web browser for Xfire while playing WoW. That's right, no more alt-tabbing, throw away your second monitor, close your laptop, put your pants back on... er, you get the picture. Check out Xfire's browser page for more details.
Been living in a cave and haven't heard of 'em? Xfire is the number #1 gaming application for PC gamers. In under 6MB, Xfire enhances a users gaming through in game chat, stat tracking and guild hosting. Xfire also allows users to live broadcast their gameplay, capture and upload in-game video and screenshots. Recently Xfire also went live with Pro Voice, which provides free server-hosted voice chat accessible in and out of game. So having Xfire with you in-game is pretty much like having MacGyver in your guild.
You may also notice the screenshot (right) shows Portal:Mobile - this is a new portal designed specifically for low powered devices.
System Requirements
From Download XFire...
System Requirements
PC with a Pentium Processor running Windows 2000, XP, or Vista
10 MB available hard drive space
Desktop resolution of 800 x 600 at 256 colors
Additional Requirements for Xfire In-Game
DirectX 9.0c or higher
Video Driver that supports DirectX 9.0c

Maybe like having MacGyver in your guild, but no Mac support. --

Beware the sneaky smile! Fandyllic (talk · contr) 11:20 AM PST 4 May 2009
Note, this discussion has been moved from the village pump

K

i

r

k

b

u

r

n

  

talk

  

contr

12:39, 7 May 2009 (UTC)
Community content is available under
CC-BY-SA
unless otherwise noted.