Formal Dangui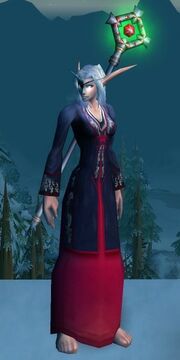 Formal Danguis are wedding dresses for Women. See Dangui for more information.
Notes
They are sold by Geenia Sunshadow in Moonglade.
The dangui is very rare because its spawn time in her inventory is very long (some say up to 2 months can pass before she creates another Formal Dangui). It cannot be enchanted with Wrath of the Lich King enchants - those enchants require an armor type ie. cloth, mail, etc., and this item has no such armor type. Enchants for item level 1 items do work on this item, but there are not that many left without an item level restriction.
Patch changes
External links
Community content is available under
CC-BY-SA
unless otherwise noted.