Forgemaster Throngus is the second boss that can be found in Grim Batol.
Normal: Avoid Cave In spots. Personal Phalanx (shield): Melee from behind, including tank. Dual Blades (swords): Use cheap, fast (ideally instant-cast) abilities/spells to dispel Disorienting Roar. Encumbered (mace): Tank should kite him in a circle, staying out of melee range.
Heroic: Shield: Stay away from his front to avoid cone of flame. Swords: Dispel Burning Flames debuff from tank if possible, else heal through. Mace: Avoid fire patches he leaves behind him.
Abilities
Strategy
Everyone needs to avoid standing in Cave in.
Equipping Swords:

Tank and Healer should use cooldowns as tank takes heavy damage on this phase.
Healer should focus on tank DPS should not be getting hit.
Equipping Mace:

Tank needs to run away or he will pancake you, he spawns a continuous lava void zone behind him when he walks.
Melee DPS needs to carefully not to pull aggro, as that will likely lead to death.
Members will be randomly impaled by boss, and need extra heals.
Equipping Shield:

Healer needs to AOE heal, due to the Flaming Arrows and Shield Wall of Flame. It is suggested that the group remains stacked together during this fight so they can move all together. Standing directly behind the boss allows you to walk straight through him for the quickest path to avoid the change in direction of the flame wall
Quotes
Aggro
NO! Throngus get whipped again if he no finish!
Equipping Mace
Equipping Shield
You not get through defenses!
Equipping Swords
Killing a player
You break easy!

Throngus use your corpse on body. Somewhere...
Death
Death... Good choice. Not best choice maybe, but better than fail and live.
Loot
Normal Mode

Item Level

333

1760 Armor
+199 Strength
+298 Stamina
Durability 45 / 45
Requires level 83
Equip: Improves critical strike rating by 133.
Equip: Improves haste rating by 133.
Item Level

333

Requires level 83
Equip: Increases your parry rating by 252.
Equip: When you parry an attack, you gain 1512 dodge rating for 12 sec. Cannot occur more often than once every 60 sec.

Item Level

333

1529 Armor
+298 Stamina
+199 Intellect
+133 Spirit
Requires level 83
Equip: Increases your mastery rating by 133.
Videos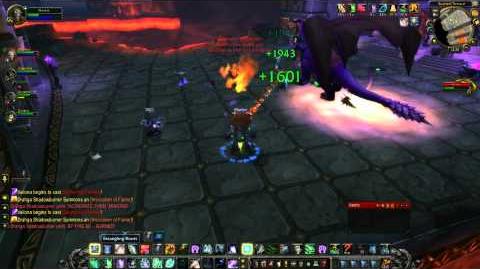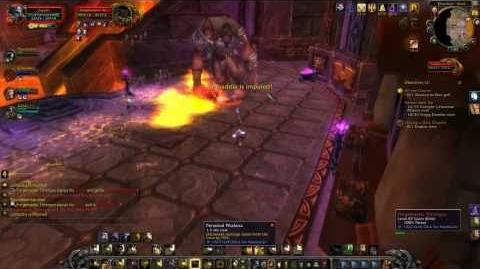 Patch changes

Patch 4.0.3 (15-Nov-2010): Added.

External links


Archive.org
Forgemaster Throngus


Archive.org
Forgemaster Throngus
Guides

FranksPlace.org
Cataclysm Dungeon Guide: Grim Batol (Regular and Heroic)
Community content is available under
CC-BY-SA
unless otherwise noted.