Flametalon of Alysrazor

Item Level

40

Mount

"Mount" is not in the list of possible values (Back, Chest, Feet, Finger, Hands, Head, Held in off-hand, Legs, Main Hand, Neck, Off Hand, One-Hand, Projectile, Ranged, Relic, Shirt, Shoulder, Tabard, Thrown, Trinket, Two-Hand, Waist, Wrist, Two-Handed) for this property.

Requires level 40
Requires Journeyman Riding
Use: Teaches you how to summon this mount.
Flametalon of Alysrazor (aka Flaming Anzu) is a rare epic ground mount that drops from the elemental firehawk boss, Alysrazor, in the Firelands. It has a 4% drop rate and requires 150 riding skill to ride. It is available in both 10-player and 25-player versions of the raid, as well as in Normal and Heroic modes.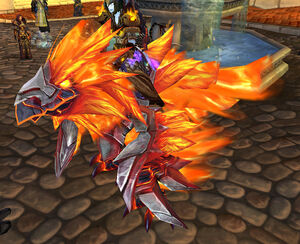 A rare drop from

 Alysrazor around 4%.
This mount has a default ground speed of 100%.
Patch Changes
Edit
External Links
Edit
Community content is available under
CC-BY-SA
unless otherwise noted.