Permanently enchant a melee weapon to occasionally grant you 120 armor penetration rating. Requires a level 60 or higher item.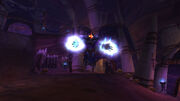 6x 
10x 
6x 
30x 
3x 

[

Runed Eternium Rod

]
Taught by

 [Formula: Enchant Weapon - Executioner].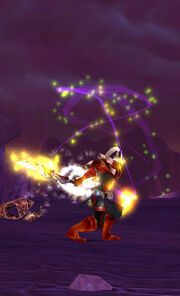 The visual effect doesn't mix with certain default weapon glows (e.g., the Gladiator's Painsaw), though the proc visual still occurs.
When Executioner procs, the player's weapon tip(s) glow bright yellow, and the swing leaves a purple trail surrounded by green particles.
The enchant can proc multiple times in a row, even on 2H weapons.
This enchant is useful in PVP (especially against opponents in cloth armor) and in PVE against instance bosses and high level elites.
Executioner will not proc off ranged attacks, only melee.
This enchant is highly useful to tanks and melee DPS.
Since it requires at least a level 60 weapon, this is one of only two Burning Crusade enchant formulae that require Weapon Vellum III to make enchant scrolls.

Patch 3.3.3 (2010-03-23): Updated with "Only one instance of this effect can be active at a time."


Patch 2.3.0 (13-Nov-2007): Added.

External links
Edit
Community content is available under
CC-BY-SA
unless otherwise noted.