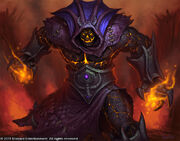 Elemental ascendants, or twilight ascendants, are a new type of elementals introduced in World of Warcraft: Cataclysm. They are Twilight's Hammer cultists that have been transformed into elementals via 'ascension'. The Twilight Cultists hope that they will one day become elemental ascendants. The ascension process seems to involve draining something from other elementals.
Types
Notable
Gallery
Community content is available under
CC-BY-SA
unless otherwise noted.