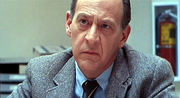 Earl Boen (born 7 November 1945) is an American actor, who now works primarily as a voice actor. He is perhaps best known from his portrayal of troubled criminal psychologist Dr. Peter Silberman in the Terminator series. 
Boen is the narrator for the World of Warcraft commercials and all of the racial introductions from World of Warcraft and World of Warcraft: The Burning Crusade, as well as the death knight introduction in World of Warcraft: Wrath of the Lich King. He also voiced Magtheridon in Burning Crusade and the narrator (King Terenas) in the opening cinematic for Wrath of the Lich King; he also voiced Terenas in spirit form during the Lich King fight in Icecrown Citadel and the closing cinematic following the Lich King's death.
External links
Edit

IMDB
Earl Boen
Community content is available under
CC-BY-SA
unless otherwise noted.