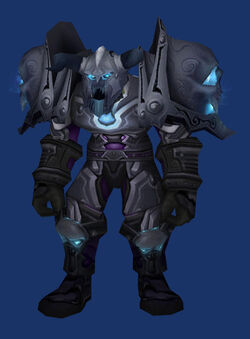 | | | | | | | | | |
| --- | --- | --- | --- | --- | --- | --- | --- | --- |
| Item | Armor | Strength | Stamina | Defense | Block Value | Dodge | Block | Hit |
| Dreadnaught Helmet | 800 | 19 | 45 | 14 | | 1% | | |
| Dreadnaught Legplates | 861 | 21 | 37 | 13 | 32 | 1% | | |
| Dreadnaught Bracers | 431 | 14 | 28 | 5 | | | | |
| Dreadnaught Waistguard | 554 | 20 | 26 | 10 | 18 | | 3% | |
| Dreadnaught Sabatons | 662 | 15 | 35 | 9 | | 1% | | |
| Dreadnaught Gauntlets | 615 | 17 | 27 | 9 | 21 | | 3% | |
| Dreadnaught Pauldrons | 722 | 14 | 29 | 9 | 21 | | | 1% |
| Dreadnaught Breastplate | 1027 | 21 | 44 | 14 | | 1% | | 1% |
| Ring of the Dreadnaught | | | 27 | 10 | | 1% | | |
Dreadnaught Armor Totals
Armor
Stats
Resistance
Other Effects
5672
Agi:
Int:
Spi:
Sta: 298
Str: 141
Arcane:
Fire:
Frost:
Shadow:
Nature:
+93 to defense
+5% Dodge
+2% Hit
+6% Block
92 Shield Block
Bonuses gained from wearing multiple set items:
2: Increase damage done by your Revenge ability by 75.
4: Improve chance to hit with Taunt and Challenging Shout by 5%
6: Improve chance to hit with Sunder Armor, Heroic Strike,
Revenge, and Shield Slam by 5%.
8: When your health drops below 20%, for the next 5 seconds healing
spells cast on you help you Cheat Death, increasing healing done by up to 160.
Lore for the Dreadnaught (Warrior Tier 3) set: According the the first Paladin, the first set of Dreadnaught was created for the leader of the Scarlet Crusade. Wearing this set of armour gives its master the appearance of the demon from the abyss. Till this day, no one can forget when the Leader of the Scarlet Crusade wield the Ashbringer into battle against the Army of the Plague, burning amongst the souls of his enemies and himself.
Afterward, warriors from Lordaeron wore this set as a tribute to the fallen leader of the Scarlet Crusade.
-Taken from WoWGuru
Community content is available under
CC-BY-SA
unless otherwise noted.