This article or section contains information that is out-of-date.

Please replace the old information with up to date information.
This may include rewriting sections to ensure they are clear and concise, and wikifying.
Reason: Needs battle pet info.

Dragon Kite

Use: Teaches you how to summon this companion.
Source
This item comes from a special loot card from the March of the Legion set. The loot card unlocks the option to acquire it from Landro Longshot <Black Flame> in Booty Bay.
The dragon kite is the rarest loot card from the March of the legion set. It can go for up to $50–200 on eBay. It acts as a Companion.
This item does not have to be bought in-game; the item is added to the player's inventory upon successful validation of the loot code.
Facts about the Dragon Kite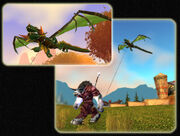 When summoned by the player, the kite will appear in one of four random colors: red, green, blue, or black. There is a faint sound of rustling paper as the player moves about.
Every so often, the kite will be struck by lightning. The lightning will travel down the kite string and zap the player holding the kite. The game screen of the player and of players nearby will shake as the lightning strikes. The lightning, a purely cosmetic effect that causes no damage, occurs about once every ten real time minutes. However, if it is raining in the game world when the kite is out, then the lightning strike occurs more frequently, about once every two minutes.
As with other non-combat pets, if the player uses a flight path or zones into an instance, the kite will be dismissed. Unlike other non-combat pets, however, the kite will also be dismissed if the player uses a mount or enters water deep enough to cause the swimming animation.
Notes
This item is possibly a reference to players who would bring Boss Dragons to heavily populated areas ("Kiting").
External links
Item
Battle pet
Old

warcraftlootcards
Kite Flying Video, Pricing/Droprate Info

Landro's Pet Box on Upperdeck
2000 ude points from the TCG.
Community content is available under
CC-BY-SA
unless otherwise noted.