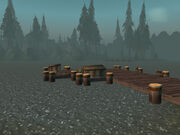 The Decrepit Ferry used to be the location of a bustling ferry service that transported goods and people to and from Fenris Isle. The nearby farmsteads all sold part of their crops to the island's rich lord and his family, and the ferryman was paid a small fee for each trip.
Then the Scourge invaded Lordaeron. The ferryman was brutally murdered, the ferry was destroyed, and ghouls, skeletal warriors, and Rot Hide gnolls invaded the docks. It is now a hazardous place to venture for inexperienced travelers.
In Patch 3.2.0 the fishing huts on the pier seem to have been removed for whatever reason intentionally or by accident.
Community content is available under
CC-BY-SA
unless otherwise noted.