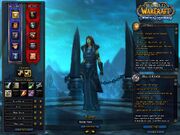 The death knight is available to all races on any server.[1] When originally released, death knights could only be made on a server that had a level 55 or higher character on it; this restriction was lifted in patch 3.0.8, and now death knights can be made on any server, provided there is at least one level 55 or higher character in your account.
Races
The reason all races can roll death knights is because a death knight is basically a freed slave. Anyone who is susceptible to death and having their soul taken by the Lich King is a death knight. Sure, a lot of the Lich King's slaves are mindless. However a lot of his ex-slaves were champions.
There really is no lore that makes the death knight playable for any specific limitation of races; because then, why would a human get to be a death knight but not a tauren? Did Arthas have a change of heart when he saw the peaceful race?
Starting attributes
Race
Strength
Agility
Stamina
Intellect
Spirit
Armor
Health
 Draenei
109
70
99
29
44
140
2169
 Dwarf
113
69
100
28
41
138
2179
 Gnome
103
75
99
33
42
159
2169
 Human
108
73
99
29
43
146
2169
 Night elf
104
77
99
29
42
154
2169
 Worgen
111
75
99
25
41
 ?
 ?
 Blood elf
105
75
99
32
40
150
2169
 Forsaken
107
71
99
27
47
142
2169
 Goblin
 ?
 ?
 ?
 ?
 ?
 ?
 ?
 Orc
111
70
100
26
44
140
2179
 Tauren
113
69
100
25
44
138
2246
 Troll
109
75
99
25
43
150
2169
References