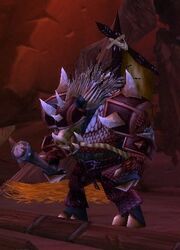 General information
Background
Death Speaker Jargba <Death's Head Captain> is a level 30 elite quilboar found in Razorfen Kraul.
Attacks and abilities
Strategies
Jargba can mind control members of your party. The best class to take along for this boss is probably a warlock, as he's probably the only boss in this instance who is not immune to fear. Just have a warlock charm one of his guards, curse demon tongues on Jargba and keep him under continuous fear while the rest of the party first kills of his guards.
But remember to clear the area of any possible adds first, because Jargba is quite the mobile little chicken when he's terrifies. [1]
Loot
External Links
Community content is available under
CC-BY-SA
unless otherwise noted.