This article or section contains information that is out-of-date.

Please replace the old information with up to date information.
This may include rewriting sections to ensure they are clear and concise, and wikifying.
For the old version of the Faire, see Darkmoon Faire (old).
---
Ahead of You, Down the Path
A Majestic, Magical Faire!
Ignore the Darkened, Eerie Woods
Ignore the Eyes That Blink and Stare
Fun & Games & Wondrous Sights!
Music & Fireworks to Light Up the Night!
Do Not Stop! You're Nearly There!
Behold, My Friend: THE DARKMOON FAIRE!

- Upon the signs leading to the Darkmoon Faire, down the Darkmoon Path
The Darkmoon Faire showcases the weird and the extraordinary. Gathering the exotic from around the world, Silas Darkmoon presents the Darkmoon Faire as a celebration of the wonders and mysteries found in Azeroth. The Faire spends most of its time in parts unknown, they are available from time to time by accessing portals in

Elwynn Forest and

Mulgore.
See Darkmoon Faire (old) for the pre-Patch 4.3 version.
Prior to Patch 4.3, the Darkmoon Faire was split into the two sites where there are now portals (on the other side of the main road through Goldshire in Elwynn Forest and down the hill from Thunder Bluff in Mulgore). The faire was much smaller back then with mostly just gathering quest turn-ins.
With

Patch 4.3, the faire expanded dramatically when it relocated to Darkmoon Island. Monthly quests for professions were added, with many daily games (need
 [Darkmoon Game Tokens] to play) to collect
 [Darkmoon Prize Tickets]. There are also turn-ins for PvP items collected outside the faire for prize tickets. The amount of extra things to do and see on the island makes the old faire pale in comparison. There are also more things added in later patches.
In Mists of Pandaria
Edit

This section concerns content exclusive to Mists of Pandaria.
Deck turn-ins
Mobs
 

Moonfang

 <Darkmoon Den Mother> now stalks the woods northwest of the faire.
Battle pets
Pet tamers
Rides
Toys
In Warlords of Draenor
Edit

This section concerns content exclusive to Warlords of Draenor.
Card turn-in
Deck turn-ins
New games
Battle pets
Pet tamers
PvP
Description
Edit
The Darkmoon Faire is an event that appears in the game. The location of the Faire is on Darkmoon Island. The portals to the Island can be accessed in the following locations:
Setup takes the carnies three days; and the Faire opens early that Monday, and remains there for one week. Heralds in Ironforge and Orgrimmar announce the arrival of the Faire. Darkmoon Faire Mystic Mages will teleport players to the portals for a varying amount of silver, based on player level.
The Faire itself is neutral and can be visited by players of either faction. The Faire on the Island is a sanctuary, as well as the path leading down to it from the portal. Areas outside the path and Faire are considered contested, which is important to note for those playing on PvP servers.
Many exotic vendors travel with Silas Darkmoon, offering adventurers hard-to-find items from the far corners of Azeroth.
Players can earn tickets by completing quests for a number of Darkmoon Faire NPCs, which can then be turned in for items and special equipment.
Strange sets of cards have been broken up and scattered across Azeroth, and can also be created by scribes. Players who are lucky enough to collect a complete set of these cards can turn them in at the Faire to receive epic items.
Cheap booze. 'Nuff said.
Shoot yourself off with the Darkmoon Cannon!
Destroy your friends and foes with small, Dwarven-made Steam Tonks with four abilities: Cannon, Mortar, Drop Mine, and Nitrous Boost.
Faire schedule
Edit
The Darkmoon Faire visits once a month, typically starting at 00:01 on the 1st Sunday of each month. The event dates are automatically added to the in-game calendar. You can also see event dates for the Darkmoon Faire on the official Blizzard Event Calendar by clicking on your armory profile, then "Events".
The beginning of the Faire means the portal to Darkmoon Island will be active in it's respective location near Goldshire, Elwynn Forest (

) or south of Thunder Bluff, Mulgore (

).
2015 schedule
January
February
March
Starts
Ends
Starts
Ends
Starts
Ends
Sunday
04-Jan-2015
12:00 AM server time
Saturday
10-Jan-2015
11:59 PM server time
Sunday
08-Feb-2015
12:00 AM server time
Saturday
14-Feb-2015
11:59 PM server time
Sunday
01-Mar-2015
12:00 AM server time
Saturday
07-Mar-2015
11:59 PM server time
April
May
June
Starts
Ends
Starts
Ends
Starts
Ends
Sunday
05-Apr-2015
12:00 AM server time
Saturday
11-Apr-2015
11:59 PM server time
Sunday
03-May-2015
12:00 AM server time
Saturday
09-May-2015
11:59 PM server time
Sunday
07-Jun-2015
12:00 AM server time
Saturday
13-Jun-2015
11:59 PM server time
July
August
September
Starts
Ends
Starts
Ends
Starts
Ends
Sunday
05-Jul-2015
12:00 AM server time
Saturday
11-Jul-2015
11:59 PM server time
Sunday
02-Aug-2015
12:00 AM server time
Saturday
08-Aug-2015
11:59 PM server time
Sunday
06-Sep-2015
12:00 AM server time
Saturday
12-Sep-2015
11:59 PM server time
October
November
December
Starts
Ends
Starts
Ends
Starts
Ends
Sunday
04-Oct-2015
12:00 AM server time
Saturday
10-Oct-2015
11:59 PM server time
Sunday
01-Nov-2015
12:00 AM server time
Saturday
07-Nov-2015
11:59 PM server time
Sunday
06-Dec-2015
12:00 AM server time
Saturday
12-Dec-2015
11:59 PM server time
The Tauren Chieftains' concert
Edit
To celebrate the 2007 BlizzCon event on August 3 and 4, The Tauren Chieftains (aka Level 70 Elite Tauren Chieftain) made a guest appearance[2] at the new Darkmoon Faire location outside of Shattrath city (since removed with Patch 4.3.0). At the top of every hour for the duration of BlizzCon, they performed "Power of the Horde" on a special stage set up for the occasion.
After the release of Patch 4.3.0, the band can be seen playing on the stage at the south end of Darkmoon Island at the top of the hour under the banner "L90ETC". Their manager, Michael Schweitzer, announces the upcoming performance at the half-hour, 15-minute and 5-minute marks.
Use /cheer on one of the band members to get a Pumped up! buff which raises all stats by 10% for 5 minutes.
Vendors and other NPCs
Edit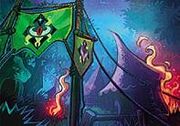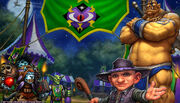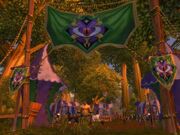 The Faire has vendors and some special NPCs. For exotic animals that are part of the zoo, see Darkmoon Zoo Bizarre.
Quest givers/enders

Vendors

Ghosts

Profession trainers

NPCs

Children

Mobs
† Added in Patch 5.1.
Darkmoon Faire Prize Tickets
Edit
[Darkmoon Prize Ticket]s are used like currency to purchase items from a variety of Darkmoon Faire vendors. The Darkmoon Faire tickets are not physical items; the number you have earned can be found in the currency tab.
Currency for
Edit
Earning tickets
Edit
The primary way of earning tickets is via quests. Within the Deathmatch Pavilion
[47.3, 68.2]
players may battle one another for the Darkmoon Arena Chest for an additional 5
. With your Darkmoon Adventurer's Guide you can also complete drop quests out in the world for a various amount of tickets.
‡ Note: There are some quests (generally only profession quests) that require players to bring extra materials to the Island, as most aren't sold within the Faire:
As of Patch 5.2, winning a game awards a [Darkmoon Game Prize] rather than just prize tickets.
Ring Toss
Edit
Carnie:  

Jessica Rogers

Objective: Toss 10 rings near the Darkmoon Turtle.
Daily quest:  [1 Daily] 

Target: Turtle

. Land four rings on the Dubenko, the Darkmoon Turtle. Rewards five Darkmoon Prize Tickets.
Difficulty 2/5: That damn turtle likes to move a split second after you toss your ring sometimes, and tossing a ring has a short cast time, so plan accordingly. Other than that, Ring Toss is a simple game, and Dubenko is adorable.
Tips: One of the easiest games. Accuracy of target placement is not exact, so just try to throw when the turtle is not moving.
Tonk Commander
Edit
Carnie:  

Finlay Coolshot

Objective: Drive your tonk through the war zone, blasting enemy tonks and minizeps while avoiding your own destruction.
Daily quest:  [1 Daily] 

Tonk Commander

. Destroy 20 targets in the tonk battle arena. Rewards five Darkmoon Prize Tickets.
Difficulty 2/5: You have to get really close to the targets in order to secure your kills for your tickets, but you can play multiple times and your score carries over for the daily quest. Boost to avoid enemy tonks and your jerky friends looking to slow down your daily quest.
Tips: Only shooting targets gets you points. It should be easy to watch out for the zeppelins and NPC tonks, but enemy tonks can be more unpredictable.
Shooting Gallery
Edit
Carnie:  

Rinling

Objective: Aim your rifle at one of three targets that is marked by a green arrow by pointing your character in its direction and firing.
Daily quest:  [1 Daily] 

He Shoots, He Scores!

Hit 25 targets in Shooting Gallery. Rewards five Darkmoon Prize Tickets.
Difficulty 4/5: If you don't know what you're doing, this could be a pain. But you do know what you're doing and how this game works, because you're reading this synopsis. If there are a lot of people around the Shooting Gallery booth, you might have some trouble aiming. Thankfully, you can just wait until things clear out a bit. Overall, it's fast-paced and fun.
Tips: Best to use your arrow keys to change direction when targeting. Only a couple keypresses, at most, should do. It is very hard to get more than 2 points per green arrow, but maybe you can do it if you're fast.
The Humanoid Cannonball
Edit
Carnie:  

Maxima Blastenheimer

and her Blastenheimer 5000 Ultra Cannon
Objective: Fire yourself from the cannon and land in the middle of the target in the water near the Darkmoon boardwalk.
Daily quest:  [1 Daily] 

The Humanoid Cannonball

. Score five points in The Humanoid Cannonball by landing as close to the center of the bull's-eye as possible. Rewards five Darkmoon Prize Tickets.
Difficulty 3/5: As long as you hit near the target, you'll get one point. You'll get three points for landing in the ring around the target and the full five points for a bull's-eye. I've gotten some pretty close calls on the bull's-eye and wasn't given the three points -- I call foul, carnies. Anyway, once you figure out when to drop your wings, the game is pretty simple and an easy way to get some prize tickets every day. That first few shots out of the cannon will throw you for a loop, which I would imagine getting fired out of a cannon can do to someone.
Tips: Dropping right after the edge of the boardwalk seems to work best. Getting a bull's-eye is pretty hard.
Whack-a-Gnoll
Edit
Carnie:  

Mola

Objective: Swing your hammer at the gnolls that pop up from the barrels in the game area, but avoid hitting babies. Seriously, don't hit the kids!
Daily quest:  [1 Daily] 

It's Hammer Time

. Score 30 points at Whack-a-Gnoll. Rewards five Darkmoon Prize Tickets.
Difficulty 3/5: I hit more children in Whack-a-Gnoll than I wanted to, if only because I became overzealous and spiteful of the gnolls. You've got one button, so mash accordingly. Whack-a-Gnoll is the hardest game to predict and therefore does require some concentration, but it's way fun, fast-paced, and easy enough to just zonk out with and smash gnolls. I hate their stupid, smug faces.
Tips: Just avoid hitting the babies. It may seem like it is best to play without any other players around, but other players cannot hit your gnolls, and vice versa. They see their own targets - that's why it looks like everyone else is much worse at the game than you are.
Carousel
Edit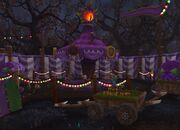 The Darkmoon Carousel was added in Patch 5.1 near south of The Humanoid Cannonball. You'll need to buy a Ride Ticket Book for 2

which contains 5 Darkmoon Ride Tickets to get into the carousel. The carousel has 6 stationary mounts: A wyvern, 2 rockets, a dragon, a gryphon, and a murloc. Getting on the carousel will give you a [WHEE!] buff which increases Experience and Reputation Gains for 5 minutes and up to 60 minutes if you stay long enough.
Rollercoaster
Edit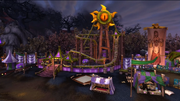 A new rollercoaster ride is coming to the Darkmoon Faire in Patch 8.1.5. While it is fair to assume that Darkmoon Ride Tickets will be needed to ride the rollercoaster, details are not yet confirmed. The image was presented at BlizzCon 2018 during the 'What's Next' panel.
Pet battle area
Edit
In

Patch 5.1, a pet battle arena area was added with Jeremy Feasel <Master Pet Tamer> who you could engage in a

 [Daily Account] Darkmoon Pet Battle! for [Darkmoon Pet Supplies].
In

Warlords of Draenor, Christoph VonFeasel <Grand Master Pet Tamer> joined Jeremy in the pet battle arena as

 [Daily Account] A New Darkmoon Challenger! for [Greater Darkmoon Pet Supplies].
Zoo Bizarre
Edit
Main article: Darkmoon Zoo Bizarre
Along with moving to the island, the Faire has added the expansive Zoo Bizarre run by

 Yebb Neblegear (who you might remember trading Darkmoon Faire Prize Tickets for all sorts of strange animal parts). The Zoo as amazing and impressive creatures from all over Azeroth and possibly beyond?
Transportation
Edit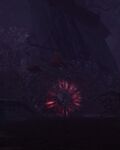 From Patch 4.3 before Patch 5.1, the only ways to leave Darkmoon Island were via Hearthstone, specific city portals on the pier to

Orgrimmar and

Stormwind City, or summoning out. As of Patch 5.1, a return portal was added at the beginning of the Darkmoon Path where you enter the island that returns you to the faction appropriate entry portal location (

Elwynn Forest or

Mulgore). Near the return portal, the gnome "Dusty" Brandom <Tallstrider Handler> was added along with two available temporary Darkmoon Strider mounts usable on the island by any visitor. The Darkmoon Striders can only be used on the path, in the Faire itself or its docks.
Also, the separate city portals on the pier were changed to a single return portal.
If you go to the fortune-seeking Gnoll,

 Sayge, he will tell you your fortune by giving you a strong buff and a small note. You can receive a new buff only after at least two hours and if your buff has run out.
The buff he gives you depends on what you answer to his questions. See the guide to Answering Sayge.
Reputation
Edit
It appears so long as you focus on regularly completing the quests you should be able to reach exalted​ status with the Faire in roughly thirty days[3].
Insane in the Membrane
Edit
Exalted​ reputation with Darkmoon is one of the requirements for the

 [Insane in The Membrane] Feat of Strength.
Achievements
Edit
Title
Description
Reward
 

[

Blastenheimer Bullseye

]

Score a bullseye when launched from the Darkmoon Cannon
10
 

[

Come One, Come All!

]

Attend the Darkmoon Faire
5
 

[

Darkmoon Defender

]

Turn in all three battleground Darkmoon Artifacts
10
 

[

Darkmoon Despoiler

]

Turn in all nine Darkmoon Artifacts
10
 

[

Darkmoon Dominator

]

Win the Darkmoon Deathmatch twelve times and receive a

[

Master Pit Fighter

]

trinket.
20
 

[

Darkmoon Duelist

]

Win the Darkmoon Deathmatch and receive a

[

Pit Fighter

]

trinket.
10
 

[

Darkmoon Dungeoneer

]

Turn in all five dungeon Darkmoon Artifacts
10
 

[

Faire Favors

]

Complete at least six profession-based quests at the Darkmoon Faire.
10
 

[

Fairegoer's Feast

]

Consume one of the every Darkmoon food and drink.
10
 

[

I Was Promised a Pony

]

Ride a Darkmoon Pony
5
 

[

Quick Shot

]

Score a Quick Shot at the Shooting Gallery.
10
 

[

Step Right Up

]

Play five different Darkmoon games.
10
 

[

Taking the Show on the Road

]

Launch off Darkmoon Fireworks in every friendly capital city.
10
 

[

Taking the Show on the Road

]

Launch off Darkmoon Fireworks in every friendly capital city.
10
 

[

That Rabbit's Dynamite!

]

Slay the ferocious Darkmoon Rabbit.
10
References
Edit
Patch changes
Edit
See also
Edit
External links
Edit
Darkmoon Faire
Event
Faction
Darkmoon Island
NPCs
Quests
 

Wowhead 

NPCs

Wowhead 

Quests
Official
Guides
News
Lore
Old
Old subzone
Reputation
factions

Burning Crusade

Wrath of the Lich King

Cataclysm

Mists of Pandaria

Warlords of Draenor

Legion

Battle for Azeroth