Cyanigosa is a powerful blue dragon located in the Violet Hold. She has been sent there by Malygos to release the prisoners and invade Dalaran itself. She will be the final boss, to be encountered in this instance.
Attacks and abilities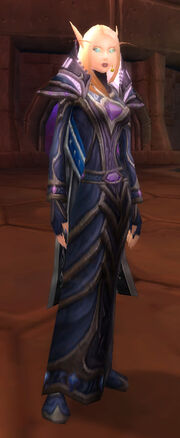 Strategies
Loot
Heroic mode

Item Level

200

784 Armor
+65 Agility
+52 Stamina
+34 Intellect
Durability 50 / 50
Requires level 80
Equip: Improves critical strike rating by 36.
Equip: Increases attack power by 132.
Quotes
Spawn:
A valiant defense, but this city must be razed. I will fulfill Malygos's wishes myself!
Aggro:
Breath Attack:
Disruption:
Special Attack:
The world has forgotten what true magic is! Let this be a reminder!
Who among you can withstand my power?
Slay:
Death:
Perhaps... we have... underestimated... you.
External links
Community content is available under
CC-BY-SA
unless otherwise noted.