Pre-combat or start of combat
Edit
All these crowd control methods are intended to put out a mob for a long period of a fight (over 10 sec). This is why Death knights are not listed. They (so far) don't have any long term CC.
† Priest can't do anything else as long as Mind Control is active.
‡ Seduction only available when Warlock has the Succubus minion.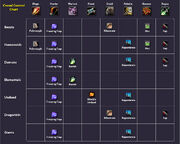 See also
Edit