For the mob, see Coyote (mob).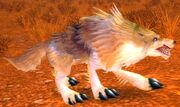 Background
Pronounced "kai-oh-tee". In the real world, coyotes are smaller with big ears and more dog-like than wolves, but in Azeroth they look just like wolves save for size and coloration (this however may only be a game mechanic). Various types of coyotes are found in Westfall and the Badlands.
Types
Community content is available under
CC-BY-SA
unless otherwise noted.