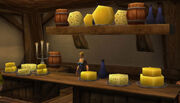 Cheese is made from curdled animal milk and is one of the six main types of food in WoW.
Uses
Player Characters can eat cheese to recover health. (No cheese items provide a Well Fed buff at this time.)
Hunters can feed cheese to some pets. The pet families which have diets including cheese are: Bear, Boar, Moth, Rhino, Sporebat, Tallstrider, Wasp, and Wind serpent.
 

[

Alterac Swiss

]

, an edible cheese, is a quest item for  [35] 

Clamlette Surprise

ω τ ϖ, the artisan cooking proficiency quest. The quest giver talks about the cheese as a cooking ingredient, but the player character never uses it as a cooking ingredient. (The quest also rewards the player character with

[

Clamlette Surprise

]

, and talks about what a wonderful recipe it is, but never trains the player character with the recipe.)
Sources
Types of buyable cheese
1 This is the base price before any discounts.
2 This cheese is only sold during Brewfest.


See also: Cheese vendor
Community content is available under
CC-BY-SA
unless otherwise noted.