Chasing Visions is chapter one (1) of the prologue campaign, Exodus of the Horde, in Warcraft III: Reign of Chaos.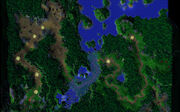 Transcript
Loading screen
Somewhere in the Arathi Highlands, Thrall, the young warchief of the orcish Horde, wakes from his troubling dream.
Quests
Main Quests
Find the Prophet
Objectives

Follow the narrator's directions
Find The Prophet

Description

The troubling dreams that have awakened Thrall foretell of a dark presence. Find The Prophet to quell Thrall's worries.
Mission Fails
Hints
Hints
Move commands can also be issued by selecting your units, then

RIGHT-CLICKING

on their destination.
Scrolling the screen in this manner allows you to see different parts of the map.
You can also scroll the screen using the

UP

,

DOWN

,

LEFT

, and

RIGHT

arrow keys.
To see a list of messages displayed during your game,

CLICK

on the

LOG

button at the top of your screen.

LEFT-CLICK

on the ground, hold down the mouse button, then drag the cursor across the units you want to select.
Attack move commands can also be issued by selecting your troops, pressing the "

A

" key, then

LEFT-CLICKING

on their destination.
Units that are given attack move commands will automatically engage enemy units encountered along the way.
The Hero icon in the top-left corner of your screen blinks red when the Hero is under attack, and displays a number if that Hero has unspent Hero points.
To pick up an item, select Thrall and

RIGHT-CLICK

on the Treasure Chest.
To see what a particular item does, move your cursor over the item in your Hero's inventory.
A unit's current/maximum mana level is found beneath the unit portrait near the bottom-left corner of your screen.
Use the Potion of Mana by

LEFT-CLICKING

on its icon in Thrall's inventory.
Units cannot see as far at night as they can during the day.
Unexplored areas often contain secrets or surprises that can be very useful.
Sleeping monsters wake up when they are attacked.
To see the difficulty level of a particular monster, move your cursor over it. Monsters range in difficulty from level 1 to level 10.
Tomes disappear after being used, freeing up inventory slots for holding other items.
Quotes
Intro cinematic
The Prophet: "It was not a nightmare, young warchief, but a vision. Follow me, and I will reveal what your future holds."
Thrall: "I don't know what this is all about, but I'll play along."
Throughout the mission
Thrall: "Prepare yourselves! I sense a gnoll ahead!"
Grunt: "Warchief, we've discovered a group of murloc raiders in the nearby river!"
Thrall: Be wary, my warriors. Don't let nightfall dull your senses."
Thrall: "An ogre! We'd have a fierce battle on our hands if the beast weren't sleeping!"
Thrall: "A golem! Watch yourselves, my brethren: those creatures do not sleep at night!"
=Victory cinematic =
Narrator
Units
Named
Creeps
Critters
The battle
Thrall awoke and went out of his camp. He found a mysterious Prophet, who told him to meet and he will reveal the future. He set out to find the Prophet and went to an encampment of the Horde where he recruited three grunts. On his way, he found a gnoll scout and his encampment, murloc raiders, an ogre warrior, some golems, and forest trolls which caused an impression on Thrall as he couldn't believe they were part of the Horde during the Second War. Thrall finally met with the Prophet which had seen the future. He told Thrall that the Burning Legion was returning and that he had to leave to Kalimdor, so that he and his people could be saved. He wasn't sure what decision to make, but the spirits told him to trust the Prophet.[3]
Notes
There are two Scurvy Pirates in the map, they can only be seen with Thrall's Far Sight. There is a ship which probably was the way they reached the island and are guarding a Phat Lewt. They have each different stats, one of them has the same stats as a Bandit while the other has the same stats as a Brigand.
Items
Media
Videos
References
Community content is available under
CC-BY-SA
unless otherwise noted.