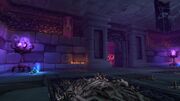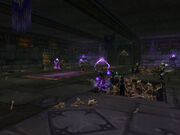 The Chamber of Summoning is located inside Scholomance, just past the Reliquary. It leads on to a lower level with the large unnamed main chamber branching off into three directions below. The Chamber of Summoning is full of necromancers who contiously summon skeletons to serve their bidding. Access to the Scholomance balcony, where one can battle the evil gargoyle Kirtonos the Herald, is also found in this chamber.
Community content is available under
CC-BY-SA
unless otherwise noted.