Chalice of Benedictus

Item Level

245

Held In Off-hand

"Held In Off-hand" is not in the list of possible values (Back, Chest, Feet, Finger, Hands, Head, Held in off-hand, Legs, Main Hand, Neck, Off Hand, One-Hand, Projectile, Ranged, Relic, Shirt, Shoulder, Tabard, Thrown, Trinket, Two-Hand, Waist, Wrist, Two-Handed) for this property.

+58 Stamina
+55 Intellect
Socket Bonus: +5 Spell Power
Requires level 80
Equip: Improves hit rating by 43.
Equip: Improves haste rating by 51.
Equip: Increases spell power by 80.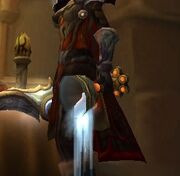 This item is dropped by the Twin Val'kyr during the 10-man Trial of the Crusader Raid on Heroic setting.
Because of the hit rating granted, this item is most suitable for magic DPS-ers, such as Mages, Warlocks, and DPS spec'd Druids and Priests.
Patch changes
Edit
External links
Edit
Community content is available under
CC-BY-SA
unless otherwise noted.