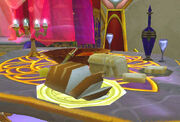 Bread is made from baked dough and is one of the six main types of food. Players can loot bread from dead humanoids or purchase them from bread vendors. Hunters can feed bread to some pets. Bread is also unique among food in that it can be conjured by mages.
Types of buyable bread
1 This is the base price before any discounts.
See also: Bread vendor
Types of conjurable bread
Community content is available under
CC-BY-SA
unless otherwise noted.