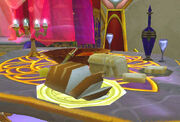 Bread is made from baked dough and is one of the six main types of food.
Uses
Player Characters can eat bread to recover health. A few bread items provide a buff as well. Hunters can feed bread to some pets. (These are the same uses as other types of food.)
Sources
Types of buyable bread
1 This is the base price before any discounts.
See also: Bread vendor
Types of conjurable bread
Community content is available under
CC-BY-SA
unless otherwise noted.