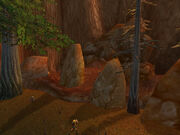 Boulderslide Cavern is a mine found in Boulderslide Ravine worked by Gogger kobolds.
They're frantically mining a rare crystal called Resonite. The crystals have a trace of earthen magic.[1]
Deep inside the mine, the Goggers have dug deep uncovering a Resonite Cask, which houses a slumbering earthen by the name of Goggeroc.[2]
References
Edit
Community content is available under
CC-BY-SA
unless otherwise noted.