Brimstone and fire follow in his wake. [1] (

TCGBT 31

)
Bonechewer Behemoths can be found in Black Temple.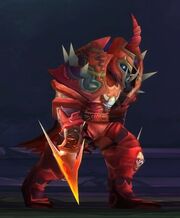 Abilities
Edit
Behemoth Charge (Physical) - Charges an enemy, inflicting normal damage plus 2647 to 2953 and stuns the opponent for 3 sec.
Fel Stomp (Physical) - Inflicts 3800 to 4200 Physical damage to nearby enemies, stunning them for 3 sec.
Frenzy (Physical) - Increases the caster's attack speed and the Physical damage it deals for 2 min.
Meteor (Fire) - Deals 23750 to 26250 Fire damage, split between all enemies within 50000 yards of the impact crater.
External links
Edit
Community content is available under
CC-BY-SA
unless otherwise noted.