Black Battlestrider

Item Level

40

Mount

"Mount" is not in the list of possible values (Cloth armor, Leather armor, Mail armor, Plate armor, Axe, Dagger, Fishing pole, Fist weapon, Mace, Miscellaneous, Polearm, Staff, Sword, Bag, Enchanting bag, Engineering bag, Gem bag, Herb bag, Leatherworking bag, Mining bag, Soul bag, Arrow, Bow, Bullet, Crossbow, Gun, Idol, Libram (relic), Shield, Sigil, Thrown, Totem (relic), Wand) for this property.

Races: Human, Dwarf, Night Elf, Gnome, Draenei, Worgen
Requires level 40
Requires Riding (150)
Use: Teaches you how to summon this mount. This is a very fast mount.
Vendor 2000  
Black Battlestrider is an epic PVP mount. Previously available only to gnomes and dwarves who had reached a PVP rank of Commander (rank 11), this can now be purchased with Marks of Honor and, as of patch 3.0.8, can be mounted by races other than dwarves and gnomes. Before The Burning Crusade, this mount only required Riding Skill 75 and level 40; it now requires Riding skill 150 and level 60.
This item can be purchased from Lieutenant Karter <Mount Vendor> just outside the door of the Champion's Hall in Stormwind as part of the PvP honor system Rewards. It costs 2000
 .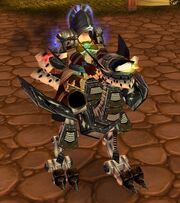 Patch changes
Edit
/

Patch 4.0.1

(12-Oct-2010): Cost changed from 50,000 to 2000  .


Patch 3.3.3

(2010-03-23): Cost changed from 30 30 30 to 50,000

External links
Edit
Community content is available under
CC-BY-SA
unless otherwise noted.