The Beast Pens is a Zandalar troll camp on the northwest side of the Isle of Thunder. It's here the Zandalari raise and train raptors, direhorns, devilsaurs, and even compies to be used in battle.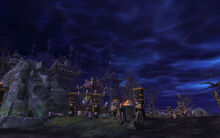 The camp is half of the third stage of questing on the isle, accessed upon completion of [90] Tear Down This Wall!. The other half is the Conqueror's Terrace, accessed via the Emperor's Gate to the southeast. To the north is the Lightning Vein Mine with further access to the Thunder Forges, and the Diremoor is to the southeast. The Bay of Echoes lies between the Beast Pens and Zeb'tula / Dawnseeker Promontory.
The [Hair of the Chamberlain] can be found at one of several locations in either the Conqueror's Terrace or the Beast Pens for

[90] The Crumbled Chamberlain.
Community content is available under
CC-BY-SA
unless otherwise noted.