This article is a transcludable page for

Battle pet

, therefore it may only contain a few words, a tooltip, a price tag, a table, or a part of a page.

See

what links here

for the pages that use this page.
Battle pets will fall into one of 10 possible pet families. Each pet family has its own strengths and weaknesses when up against certain other battle pet families.[1][2][3][4]
Note on battle pet attacks
Attacks each have their own "family", which may not match the family of the pet, and may be from a variety of different families on one pet. For example, a Harpy Youngling is a
Humanoid pet whose attacks are all of the
Flying family type, meaning it will take extra damage (

) from
Undead attacks and less (

) from
Critter attacks (because its family is
Humanoid), but will do extra damage (

) to
Aquatic creatures and less (

) to
Dragonkin, rather than more to
Dragonkin and less to
Beast (because its attacks are
Flying type rather than
Humanoid).
Families
Strengths and Weaknesses
The diagrams below show in a variety of ways how families are strong or weak against each other. The two left diagrams show what family is strong against another by having a red arrow point (

Strength) to the family that takes extra damage and a gray arrow (

Weakness) pointing to the family that takes less damage.
The right side diagram shows this in a different form, the large icon shows how it is affected by other families. The upper left is a family that attacks it strongly (

Weakness defending), the upper right is a family that it attacks strongly (

Strength attacking), the lower left is a family that attacks it weakly (

Strength defending), and the lower right is a family that it attacks weakly (

Weakness attacking).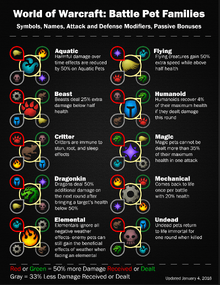 Graphics courtesy of Nightsmaiden.
References
Edit
See also
Edit
Community content is available under
CC-BY-SA
unless otherwise noted.