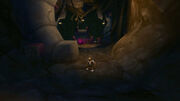 The Ban'Thallow Barrow Den is located very close to Starfall Village in Winterspring. Originally unused and empty, it now is home to a small quest chain started by Rinno Curtainfire. Denizens of the Den include Coldlurk Burrowers (worms) and Coldlurk Creepers (spiders).
Community content is available under
CC-BY-SA
unless otherwise noted.