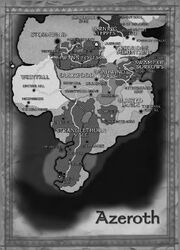 Azeroth is the name of the southernmost of the two southern continents in the Eastern Kingdoms.[1][2][3][4][5] It lies to the south of the continent of Khaz Modan.
Throughout the World of Warcraft manual, and in the game itself, the name Azeroth is used in two different contexts.[6] Azeroth is both the name of the world in the Warcraft universe and one of the three continents that comprises the Eastern Kingdoms, the landmass opposite of Kalimdor on the world map. The other two continents of the Eastern Kingdoms are Loch Modan in the center and Lordaeron in the north. Sometimes you will see references to Azeroth the world, while other times you will see references to Azeroth the continent.[7]
Zones
Azeroth's regions (WoW)
Other regions (lore)
As compiled in The Last Guardian, Lands of Conflict, World of Warcraft The Roleplaying Game, Warcraft: Orcs & Humans, and Warcraft II: Tides of Darkness.
Other uses
Speculation
| | |
| --- | --- |
| | This article or section includes speculation, observations or opinions possibly supported by lore or by Blizzard officials. It should not be taken as representing official lore. |
Despite the World of Warcraft manual stating that Azeroth has "two meanings" in the game, that of the world of Azeroth and the southernmost continent of the Eastern Kingdoms,[8] (WoWMan #?) it appears that there is a third meaning in the game. From the context of certain quotes made in quests, it is implied that the entire Eastern Kingdoms is sometimes referred to as the continent of Azeroth.[9][10][11] The entire continent was named this by the Arathi.[12][13]
Notes
References
Regions of the Eastern Kingdoms
Azeroth
Khaz Modan
Lordaeron
Quel'Thalas
Vashj'ir
Other
Eastern Kingdoms category