Augh is the second boss in the Lost City of the Tol'vir.
Abilities
Strategy
There are two encounters with Augh. The first, he is basically just a stronger pygmy mob with whirlwind and a disorient ability.
After beating him, he appears occasionally while fighting Lockjaw. He'll move in at the party while doing a whirlwind. Just kite around and avoid standing next to him, he'll run off pretty quickly.
Heroic
Augh is now a full boss after Lockjaw. He has the same abilities, and the same strategies apply--kite him around during whirlwind and burn him down.
Quotes
First Aggro

Bwaaaah! You no take da treasure!!!
Goes to Lockmaw

Bwagauugh!!! Augh feed you to da crocs!
Whirlwind

Gwaaaaaaaaaaaahhh!!!
Lockmaw dies

GAAAH! How you kill crocs?!

Augh smart! Augh already steal treasure while you no looking!
Loot
Videos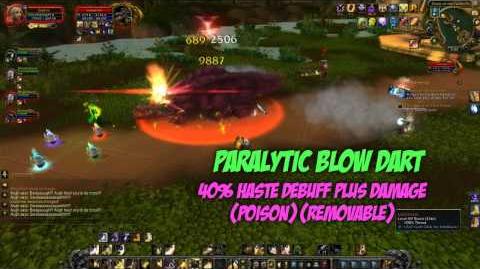 Patch changes
External links
Community content is available under
CC-BY-SA
unless otherwise noted.