Ashjre'thul, Crossbow of Smiting

Crossbow

"Crossbow" is not in the list of possible values (Back, Chest, Feet, Finger, Hands, Head, Held in off-hand, Legs, Main Hand, Neck, Off Hand, One-Hand, Projectile, Ranged, Relic, Shirt, Shoulder, Tabard, Thrown, Trinket, Two-Hand, Waist, Wrist, Two-Handed) for this property.



Speed 3.40
124 - 186 Damage
(45.6 damage per second)
+7 Stamina
Durability 90 / 90
Requires level 60
Equip: Increases ranged attack power by 36.
Ashjre'thul, Crossbow of Smiting
has the slowest attack speed of any other ranged weapon and gives the largest amount of burst damage for a
hunter
. Even when compared to BC weapons.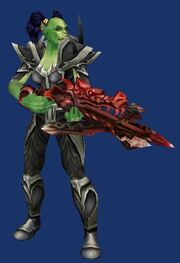 This item drops from Chromaggus in Blackwing Lair.
The estimated droprate is 7%.
Patches and hotfixes
Edit

Patch 1.6.0 (12-Jul-2005): Added

External links
Edit
Community content is available under
CC-BY-SA
unless otherwise noted.