Argent Shoulders are Tailoring-made cloth shoulders that give a bonus to stamina, spirit, and shadow resistance. These would be good shoulder for warlock with the high stamina bonus.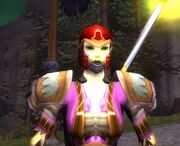 Argent Shoulders are crafted by Tailors with a skill level of 300.
The components are:
The

 [Pattern: Argent Shoulders] is sold by the Argent Dawn quartermasters:
You must have revered reputation with the Argent Dawn to purchase this pattern.
Patch changes
Edit
External links
Edit
Community content is available under
CC-BY-SA
unless otherwise noted.