Arcanoweave Bracers

"ItemLevel" can not be assigned to a declared number type with value 112.

Item Level

Item Level 112

Wrists

"Wrists" is not in the list of possible values (Back, Chest, Feet, Finger, Hands, Head, Held in off-hand, Legs, Main Hand, Neck, Off Hand, One-Hand, Projectile, Ranged, Relic, Shirt, Shoulder, Tabard, Thrown, Trinket, Two-Hand, Waist, Wrist, Two-Handed) for this property.

67 Armor
+31 Stamina
+25 Arcane Resistance
Durability 30 / 30
Requires level 69
Arcanoweave Vestments

(3 pieces)

[

Arcanoweave Robe

]




[

Arcanoweave Bracers

]




[

Arcanoweave Boots

]

(3) Set: Increases your hit rating by 16.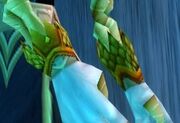 Arcanoweave Bracers are crafted by Tailors with a skill level of 350.
The components are:
The pattern is a rare drop from Arcatraz Sentinel in the The Arcatraz.
This is a common item for Enchanters to make or buy from tailors, as it is one of the cheapest ways to farm Large Prismatic Shards.
External links
Edit
Community content is available under
CC-BY-SA
unless otherwise noted.