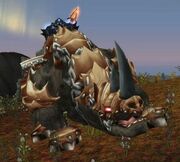 "Lunchbox" is Nedar, Lord of Rhinos's mount and bodyguard, located on the bluffs west of Lake Kum'uya in Borean Tundra. D.E.H.T.A. reluctantly calls for the death of "Lunchbox", viewing it as "Ned's tainted rhino" that "must be disposed of..."
He is involved in the following quest:
External links
Community content is available under
CC-BY-SA
unless otherwise noted.